Aqara this week launched the Presence Sensor FP2, a new millimeter wave sensor that goes far beyond the capabilities of most conventional motion sensors to enable powerful automations, with support for Apple HomeKit.

The sensor uses millimeter-wave radar technology to detect human presence in a room more accurately than traditional PIR sensors, allowing for more targeted automations and a more reliable experience. Aqara says that FP2 detects even the slightest movement, such as breathing, to determine human presence. This level of precision means users can set up automations to turn lights on and keep them on when someone is in an area, even when there's minimal movement that more conventional sensors wouldn't be able to detect, for example.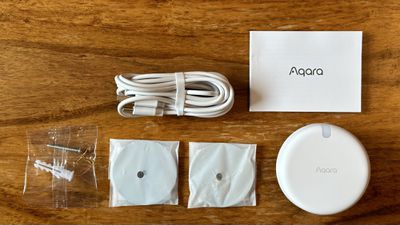 The sensor comes with a two-meter USB-A to USB-C power cable, two adhesive magnetic mounting plates, a screw, a wall anchor, and an instruction manual. You must provide your own USB-A wall adapter to power the device.
Design
The sensor sports an extremely compact design with a rounded body and a matte white finish. At the top, there is a pairing button and an ambient light sensor. The design is discreet enough to be placed in the corner of a room or left on a table.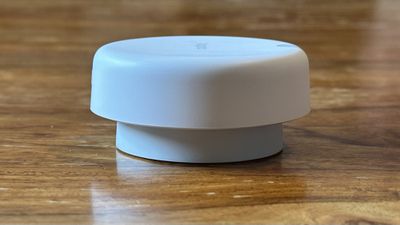 The base of the sensor rotates and fully extends, helping you position it exactly how you want it. The base is magnetic, allowing you to attach it to one of the included magnetic plates if you plan to mount the sensor on a wall or ceiling. Rotating the base also reveals the USB-C port needed to power the device and a label with the ‌HomeKit‌ pairing code.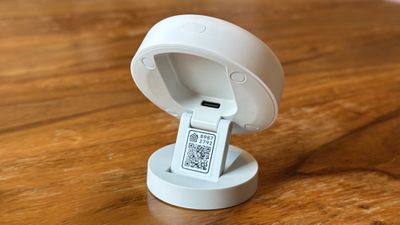 The FP2 is IPX5 rated against water and dust, allowing it to be installed in humid environments like bathrooms or even some outdoor areas.
Configuration, functionality and compatibility with HomeKit
While the FP2 occupancy sensor requires an Aqara hub, there are several options to choose from, such as the M1S or M2 hub. Setting up the FP2 follows the same process as many other Aqara accessories. Simply plug the FP2 into a power source, open the Aqara app, press and hold the small button on the accessory, and follow the onscreen instructions.
To take full advantage of the FP2's features, you must use the Aqara app. The sensor has separate modes depending on where you plan to place the sensor, each with subsequent options to tailor it to your exact needs. Users can configure multiple detection zones and targets, as well as exclude certain areas from the sensor to prevent motion in these areas from triggering automations.
The app allows you to define up to 30 zones within a room, each with their own automations. After configuring these zones in the Aqara app, the settings can be synced to Apple's Home app as multiple motion or occupancy sensors, allowing you to use the FP2 natively in a ‌HomeKit‌ setup and create automations. The built-in light sensor is also exposed to ‌HomeKit‌.
The sensor can detect presence up to eight meters away and pinpoint the exact location of people in the room with extraordinary precision, as seen on the Aqara app. It can also track up to five people at a time, allowing control of different zones based on each individual's real-time location. Presence detection is impressively instantaneous and noticeably more accurate than simpler motion sensor accessories.
The FP2 also offers some unique features such as fall detection in the Aqara app. Other capabilities, including standing, sitting, and lying posture detection, are set to be added with a device update. The FP2 may even support sleep monitoring and respiratory rate detection in the future via an update, according to Aqara.
Conclusion and how to buy
With its range of advanced features, Presence Sensor FP2 is one of the most accurate, versatile and unique smart home sensors available on the market. At $82.99, it's more expensive than a simple motion sensor, but offers much better functionality.
The FP2 can function as up to 30 individual motion sensors in Apple's Home app with an extremely high level of sensitivity and accuracy, so it's easy to recommend a more limited motion sensor purchase. Matter compatibility is set to come to the FP2 occupancy sensor via an over-the-air update, and Aqara has more features planned for the device in the future, making it a good fit for any smart home setup.
The need for constant power via USB-C is pretty much the only caveat for the FP2, as many of the less capable motion sensors on the market use battery power, making it easy to place them exactly where you want them. The need for wired power means you just have to think a bit more carefully about where you plan to use the FP2.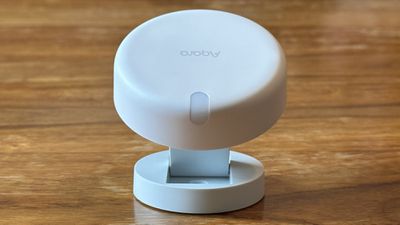 The Presence Sensor FP2 is available on Amazon in North America and Europe, as well as select Aqara retailers worldwide. Aqara is currently offering a 15% discount on the new device at Amazon until April 22 with the following discount codes:
Amazon North America: FP2USCA1 (applicable to Amazon US and Canada)
Amazon Europe: EU5PSFP2 ​(applicable to Amazon France, Germany, Italy, Spain and UK)
Note: Aqara provided MacRumors with an FP2 presence sensor for the purposes of this review. No other compensation was received.