youhe list of what Paul Cooper grows on his plot in St Helens, Merseyside, could fill a greengrocer's stock list. There's oriental mustard and arugula, snap peas, broad beans and Jerusalem artichokes. The early potatoes are on the ground; strawberry plants are sprouting and a mature apple tree that predates the parcel's creation in 1969 will be harvested later this year.
But Cooper, 51, worries that his lifelong passion is under threat. He is one of many facing huge increases in plot rents despite the cost-of-living crisis that has squeezed Brits' budgets. Some have seen demands for rents approaching 500%, prompting calls to reverse the decisions and leading some to consider abandoning their plots.
Before Cooper got his parcel in 2008, he helped his 84-year-old mother with her nearby parcel. She now visits her plot up to six times a week not only to grow but also to socialize, with pleasant summer barbecues bringing together a community that is a mix of genders and ages.
Cooper says authorities are underestimating the human cost of rent lawsuits, which can put pressure on mental health services, and the community value of producing locally grown food.
"Councilors don't seem to see that, for the vast majority of renters, gardening on allotments is their recreational activity," he says. "It helps alleviate social isolation and has health and wellness benefits as well as helping many to mitigate the effects of the current cost-of-living crisis on their household budgets."
There are an estimated 330,000 allotment plots in the UK, most of them owned by council. In 2021, the average wait for an assignment was two years and eight months, with a waiting list of about 100,000 people. This level of demand may explain the willingness of councils to risk gardeners abandoning their plots, while green-fingered applicants wait in the wings.
In Glasgow, the annual rent for a 250 square meter (2,690 square foot) plot will increase by almost 500%, from £34.50 in 2023-24 to £170 in 2024-25. The fee for those eligible for the concessions will rise by 456%, from £25 to £114.
Jenny Reeves, who chairs the Glasgow award forum, says the council has given little explanation for its decision, arguing that the awards "promote social inclusion".
"We have a multicultural population that exchanges ideas about food," she says. "They [the council] Let's say it makes cost neutral, but in the long run for someone stuck in a flat on their own giving up an assignment… the cost [of them losing this space] in the long run is much greater than the benefit of the small amount of money that [the council] you will be saving."
Glasgow City Council says it needs to save £50m this year. "Extremely difficult decisions have had to be made and a static approach to allocation fees is simply no longer sustainable," says a spokeswoman.
In St Helens, new allotment holders will be charged a £100 setup fee; it was previously £30. Letting for individual plots in 2023-24 will increase by 50%, from 30p to 45p per square metre.
Cooper, whose plot is just over 1,200 square feet, says the changes are "daunting." He says that if you put a price on people, owning a parcel will become an "elite hobby."
In March, the city council eliminated the concessions of 50% to those of certain benefits and people over 60 years of age.
Cooper says the higher costs add up to spending on seed, compost, tools and equipment. He has been contacted by people who are considering "packaging" him.
"A former soldier suffering from PTSD found solace in his assignment and decided to resign his lease because he can no longer afford it," Cooper says, adding that, for many, growing produce "beats staying inside and staring at four walls." ".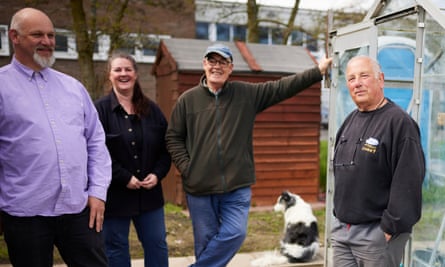 St Helens council says central government cuts have forced it to assess costs, with allocations costing £50,000 a year to manage. The increase in charges was a "difficult decision", the council says, but that "the average increase equates to 72p a week or less than £40 a year".
But some appropriation holders have pressured councils to reverse course. In Stirling, Scotland, more than 100 people have signed a petition to stop a huge increase in fees on Bridge of Allan allotments. The council had originally planned to increase rents for 2023-24 by 300%, stating this was to cover costs, rather than profit, and that its annual budget was "painful to set". After a challenge by appropriation holders, the council last month canceled the proposed increases.
Welwyn Hatfield Council in Hertfordshire recently attempted to increase plot costs by 200%. However, such was the clamor of the local protests that the council reversed its decision.
Carol Kirk, who has owned a plot in Stirling for 20 years, says the "colossal increase" would have put too much pressure on budgets. "Some allotment sites are middle class and people could pay more, but the changes would have kept a lot of people from having allotments," she says.