In iOS 17 and iPadOS 17, Apple added a new Siri capability that means you can have the virtual assistant read web articles aloud like an audiobook, even if your device is locked. Read on to learn how it's done on iPhone and iPad.

If you tend to get discouraged at the thought of reading long articles on the web on a small screen, we have good news for you. In iOS 17, Siri can read them out loud for you, which means all you have to do is listen.
How does it work
There are a few things to keep in mind when you want Siri to read web content aloud to you. First, you must use Apple's Safari when browsing web pages; otherwise it won't work. As it is, Siri will not respond to read requests in third-party browsers.
Second, the web page you want to read must be compatible with Reader View. Almost all news articles on modern websites support Safari's reader view, which removes images, ads, and other extraneous content from the web page, leaving you looking at a clean page of readable text.


You can find out which pages are Reader View-compatible by looking for the words "Reader Available" and the document icon that appears briefly in the address bar when a web page loads. If you touch the AA icon that eventually replaces it, the Show Reader option will also be available (ie not greyed out) to indicate compatibility.
The last thing to keep in mind is that if the article you want to read is just one of many articles in a feed, such as on the main page of MacRumors.com, you need to go to the individual article in question. So you can do one of two things.
Method 1:
One way to get Siri to read the selected article to you is to press and hold the side button on your iPhone (or the top button on iPad) which will activate Siri. Then say "Read me this." Alternatively, just say "Siri, read this to me", hands-free. (In iOS 17, you no longer even have to preface a command with "Hey" to invoke Siri.)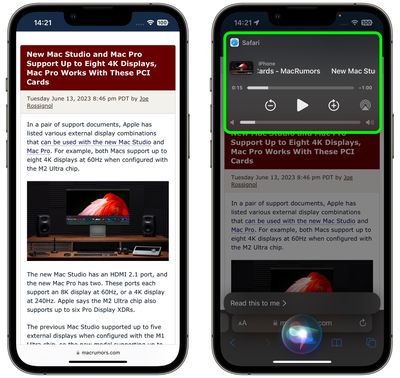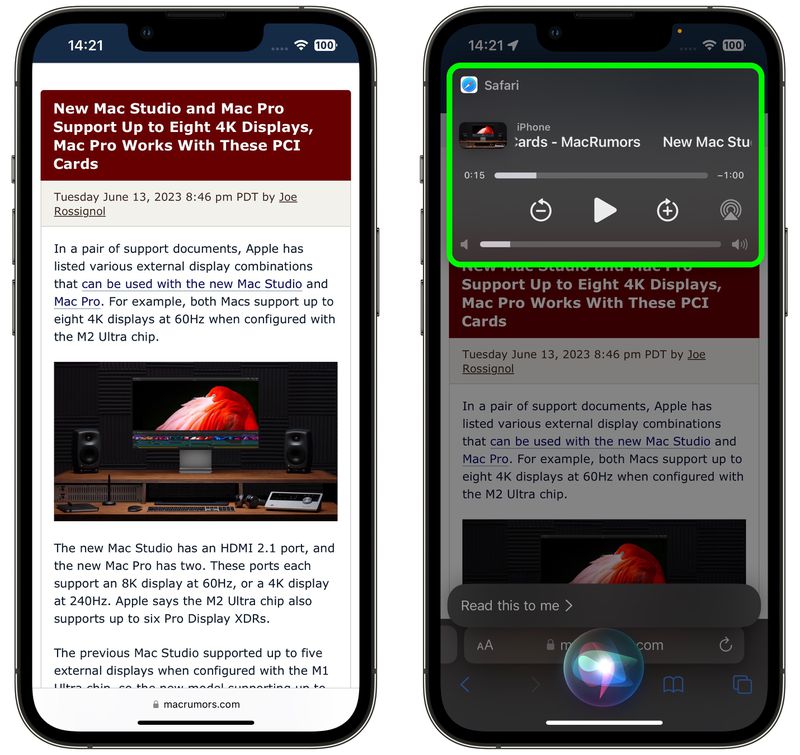 Siri will then begin reading the article aloud to you, and a media player panel will appear at the top section of the screen, allowing you to rewind, fast-forward, adjust the volume, and even stream spoken audio to another device.
Method 2:
Another way to make Siri speak is to touch the AA in the address bar, then choose the play page option in the popup menu. Siri will start reading the page to you immediately.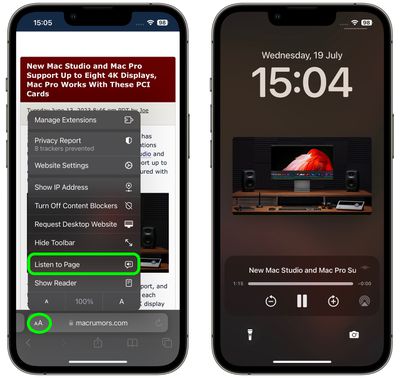 The only difference with this method is that unless you lock your device while Siri is reading, you won't see a media control panel on the screen. If the article is still open in Safari, you can prevent Siri from reading it by tapping the button Pause Listen option that replaces the "Listen to the page" option in the AA popup menu.


If you pause Siri, it will be replaced by a resume listening option, and the option will remain even if you navigate away from the page and return to it later.
So there you have it. With iOS 17, you can now read almost any article on the web through Siri while doing something else, even if your iPhone is locked and tucked away in your bag or pocket.