TOAre you a cat or dog person? According to the producers of Paul McCartney's upcoming 12-part podcast, their biggest revelation is that the former Beatle prefers canines, while John Lennon was more into felines.
"I don't think there's anything else that better describes the difference between these two people and the way they relate to each other in life and in art," says executive producer Justin Richmond in an interview about how he turned the recordings behind McCartney's recent book, A Life In Lyrics, into an audio series.
I'm very excited for the September 20th release of what is supposed to be a relaxed and in-depth talk about the making of some of the most iconic songs in history. Although, frankly, I really hope that over the course of a full 12 episodes, there could be a bit more exciting information than pet preference.
Speaking of cultural icons, we also take a look at a new Barbie podcast series, including many never-before-heard interviews with the doll's creator, Ruth Handler. There's also an excellent look at little-told pieces of black history; a new series on the marketing tactics of oil companies from Drilled's Amy Westervelt; and a list of the best podcasts to listen to during the Women's World Cup. Given the number of matches that start on weekday mornings when many of us are at work, they should prove invaluable.
alexi duggins
television assistant editor
picks of the week
LA Made: The Barbie Tapes
Widely available, weekly episodes
"Even as a child, I found her haunting yet fascinating," says Antonia Cereijido of Los Angeles news and culture site LAist, who, along with author and Barbie expert MG Lord, co-hosts this timely deep dive into the " piece of plastic" that dominates the world. She shares never-before-heard interviews on tape with creator Ruth Handler, beginning with how Barbie was conceived. Resisting Barbie fever is useless because, as the movie's tagline says, "She is everything." holly richardson
Ibiza: What's the problem?
BBC Sounds, all episodes available now
In a series that feels so immersive you'll get Fomo (to the point of booking a flight), DJ Sarah Story presents this eight-part series on the world's most famous party island. Talking to those who helped create her legacy (Pete Tong, Eats Everything, Judge Jules) and looking for the best night out, she's the liveliest travel guide around. HOUR
Drapetomaniax: History without chains
Widely available, weekly episodes
This animated version of black history takes its title from "drapetomania," an alleged mental health condition invented by a white doctor in 1851 to explain why slaves fled captivity. In the first episode, they profile Forest Joe, a 19th century South Carolina bandit who led a gang of runaways. alexi duggins
Academy
Widely available, weekly episodes
Black-tie lunches, Adderall addictions, and high ambitions collide in this sizzling drama set at America's most prestigious boarding school. Industry's Myha'la Herrold (pictured above) is the scholarship student desperate to fit in and raise the money she needs for her extracurricular activities. She cues secret societies and Euphoria-esque action (ie podcast sex scenes). hannah verdier
Weed: A Miniseries
Widely available, all episodes available now
This three-part climate crisis from Amy Westervelt (Drilled) begins with a little girl dressed as Amelia Earhart excited about her dreams. It's one of many "inspirational" ads paid for by oil companies, brought to the fore by a former vice president of petroleum who apparently invented greenwashing. The series shows how companies fought to have their "corporate free speech" become a legally protected entity. ADVERTISEMENT
There's a podcast for that.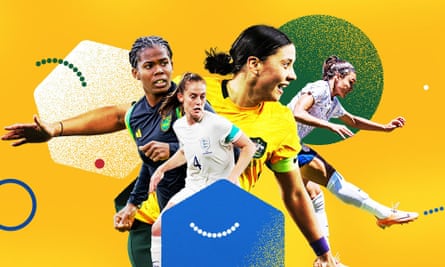 With the Women's World Cup starting in Australia and New Zealand, she twisted pick five of the best podcasts to help you beat the competition, from near-instant analysis by experts and ex-pros to The Guardian's weekly roundup
The offside rule
In 2015, The Offside Rule became the first daily podcast to cover a major women's soccer tournament, earning it revered status among fans. After a five-month hiatus, it's back, partnering with Sky Sports to deliver daily episodes during this summer's tournament. Presented by broadcasters Lynsey Hooper and Kait Borsay, the episodes will be released a few hours after the last game on each match day, with guests including former Lionesses, stars of the world stage and Sky reporters. A World Cup preview episode is now available, including insight from ex-Leona Natasha Dowie and interviews with international journalists on the best teams to watch out for.
the far post
Launched in 2020, The Far Post is ESPN's women's soccer podcast in Australia, providing year-round coverage of the country's A-League and hosted by women's soccer writers Marissa Lordanic, Anna Harrington, Angela Christian-Wilkes and Sam Lewis. The podcast has posted episodes every few days in the run-up to the Women's World Cup, including group-by-group previews and an in-depth dissection of Australia's 23-member squad. Each episode features a guest, usually from ESPN, providing expert analysis, including a look at England's chances in Group D. The podcast will also air throughout the tournament, recapping previous matches and with a strong focus on the Oz games.
The Guardian Women's Football Weekly
Hosted by sportscaster Faye Carruthers and Guardian writer Suzanne Wrack, this podcast will air three times a week throughout the tournament, featuring match analysis, guest interviews and expert commentary. Confirmed panelists include Bristol City head coach Anita Asante, former Chelsea defender Claire Rafferty, BBC commentator Robyn Cowen and The Guardian's Jonathan Liew. The podcast is also worth checking out during the Women's Super League season, with week-by-week analysis and guests including England legend Kelly Smith.
after the whistle
Their first series followed the men's tournament last year, and now the Apple News podcast is back to cover the women's game. Hosted by Ted Lasso co-creator and star Brendan Hunt and NBC host Rebecca Lowe, the episodes will be available "several times a week in the hours after the momentous games," with a preview episode already available. Listeners can expect to be guided through the talk of the tournament, including the big wins and upsets, plus the best off-the-field moments. There will be a rotating guest list, with likely star appearances: previous guests in the first season have included retired American soccer star Abby Wambach, Ted Lasso himself, Jason Sudeikis, and author Glennon Doyle.
Athletic Women's Football Podcast: World Cup Edition
Hosted by sportscaster Michelle Owen, the New York Times-owned sports website The Athletic will broadcast a daily podcast throughout the tournament, with regular appearances by its journalists Michael Cox, Meg Linehan and Charlotte Harpur. The publication has more than 10 employees at the tournament, and the show's creators hope the episodes capture the atmosphere on the field. While the main focus will be on England, the podcast will also feature guests from abroad to ensure an international reach. A preview episode was released last week, including a tour of the group stages.
Why not try…
Britain's Natural History Museum asks how to solve some of our biggest crises, including our reliance on plastic and rising tides, in Our Broken Planet.

Kerry Godliman returns for more trips down Memory Lane in the company of comedians Jason Manford, Isy Suttie and Rosie Jones.
From its cultural impact to its controversies, The Athletic takes a look at the career of one LeBron James in A King's Reign.